Develop a new sales channel and enhance your business relationships
Create your B2B e-commerce site with Klee Internet Sales
Request a demo

Accelerate your sales with B2B online order-taking
Develop your turnover with the Klee Internet Sales B2B e-commerce solution, a B2B order-taking portal adapted to your specific business requirements. Facilitate your existing customers' restocking orders and avoid stock shortages with our B2B e-commerce solution. Your sales force optimises its time and benefits greater value from their sales time.
Develop a new sales channel for a lower cost
Automatically accelerate your sales by embeding a new sales channel with a B-to-B e-commerce order-management application. Expand your sales network at a lower cost by allowing new wholesalers, distributors and points of sale to order your products online.
Access new customers for a lower cost
Reduce order-processing cost
Save time for your sales force
Optimise visits
A B2B online ordering portal adapted to your needs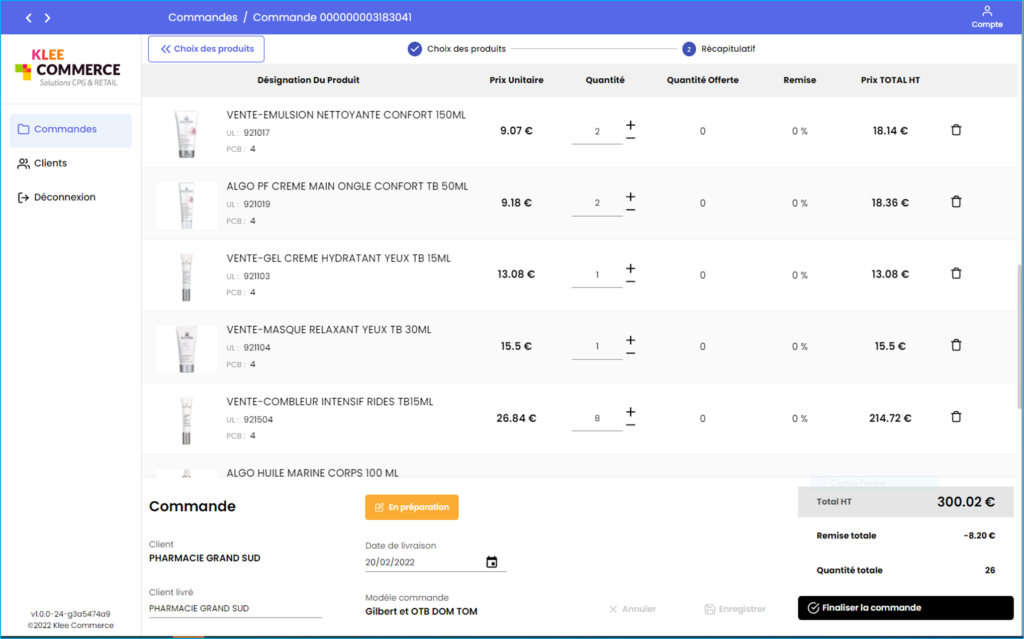 Develop an efficient and personalized e-commerce site branded with your company's charter. Promote your brands, your promotions, and your product catalogues. Adapt your B-to-B(B2B) order-taking platform according to the specific characteristics of your business and your needs.
Personalized e-commerce platform
Intuitive and customizable interface
Multiple integration of product catalogues
Easy updating of your information
Connected product databases and stores using Klee Commerce
Data access control
Maximize your commercial performance with a solution adapted to your business
Facilitate securized online order-taking with complete autonomy, taking into account the specific characteristics of your business Improve your stock shortages management and easily manage your sales with access to order history and real-time connection to data from your Klee Sales, sales force CRM solution.
24/7 securized access
Online ordering by your customers with complete autonomy
Faster management of restocking to avoid stock shortages
Multi-device
Multilingual
Management of the customer's sales conditions
Cross-selling and up-selling opportunities